....'giving is better than receiving', something i have been told for as long as i can remember. and i can't recall exactly when my heart realized it so many years ago. because when we are children the receiving part seems pretty good....but as we grow we see that the true joy comes from giving to others. helping others. it is really like we get a gift when we give the gift because it makes our heart so happy. i have definitely enjoyed giving even more since having my girls. to watch their face light up when they get what they asked for from santa...their sweet smiles and innocent excitement as they peek to see what is under the tree. it brings me far more joy to watch them than to open any gift i could ever receive for myself.
every Christmas my girls and i pick something to give to ....and this year something has touched my heart. so deeply. i know there are so many causes. so many charities that we start to feel overwelmed. so we just choose to do nothing because we can't decide or feel like our little bit we can give will not help. but all of our 'little bits' can make a lot. it can make a difference.
when i saw this sweet little girl's picture and i look at her i eyes i see my sweet maggie. i believe that is why it bothers me so much to know her fate unless we change it. because i think if my sweet girl had not been so blessed to have been born into our family in this country. this country that is so accepting of children born with that extra chromosome. because other countries are not accepting... at all.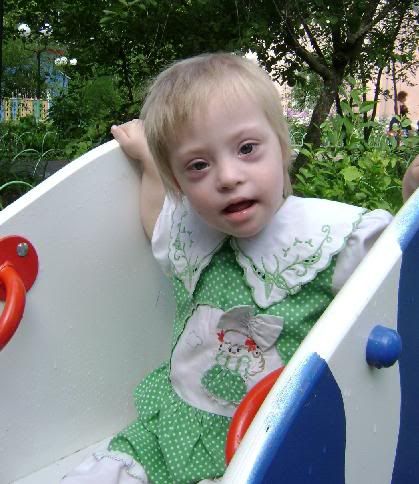 children born with ds are immediately put in an orphanage until the age of five. if they have not been adopted they are then transferred to a mental institution. where their heads are shaved and they are put in a metal crib and left there. and if they try to get out of the crib they are chained to the crib. our sweet angels are not even given a chance. a comment from someone from russia said they have no choice because people with down syndrome are 'mentally unstable and violent'... this is how other countries view these sweet souls like maggie. because they do not even give them a chance.
i first saw miss olga's sweet picture on stephanie's blog , http://www.ourdailysmiles.blogspot.com/...along with a 5 minute video that was filmed at one of these institutions, and i cannot get the images out of my head. but i feel that my eyes were opened to these sweet children to help. help with prayers, help give money and help spread awareness.
then patti who has lily, her 10 month old cutie blessed with that magic chromosome also saw olga's picture and prayed and decided to do what she could. please go to her blog and read her beautiful post... http://babynumber10.blogspot.com/2010/12/most-important-post-i-have-ever-written.html
.....they are giving away an ipod touch and other items that have been donated by drawing from the people who make a donation to olga. even if you can only do $5...if every person who reads this just leaves a little it will add up. they have already raised over $5,100...but it takes over $20,000 to bring olga to a loving family. to a loving country where she will be accepted and not locked away.
i know it seems overwhelming, there are so many children that need help....but please give yourself a true gift this Christmas. the gift of playing a part in helping miss olga be with a loving family where she belongs.